Biography
Earl Robicheaux
Composer/Sound Arts
Dr. Earl Robicheaux, a Louisiana swamp native, is owner and field recordist for Louisiana Soundscapes, LLC.
He is unique as the beautiful and exotic swamps he has recorded for years. He lives in the southern Atchafalaya Basin, Louisiana's premiere deep water swamp and indeed North America richest environment. These recordings reflect both his knowledge/ imagination of the swamp together with a realization of their inherit possibilities in sound. He is also academically trained.Dr. Robicheaux's compositions have been performed in both the United States and Europe, and include scores for solo instruments, vocal works, chamber ensemble, wind ensemble, percussion works, as well as electronic tape and multimedia projects. A representative work is "Silent Forests," scored for piano and live electronics, its narrative musical structure based on the destruction of the world's rain forests, particularly as seen in South America.His knowledge of seasonal variation, species occurrences, and the natural environment of the swamps and marshes themselves are very formidable. He has also received many comments on the meditative and relaxing nature of these environmental sounds. He views such natural recordings as both a moral commitment to a fragile and disappearing environment, also educational (children) in that sense, one which also encourages the listener to observe nature itself. These recordings are spiritual in essence in that they reflect a divine presence manifested in sound. Many people suffer from stress, depression, and related anxiety mostly due to an alienation from nature itself. It is the hope of the composer that such recordings which serve students, teachers, environmentalists and general listeners with an aural guide.He has worked for numerous state agencies, museums, and universities.For more detailed information on Dr. Robicheaux's background click here:Educational Background
Bachelors in Music Composition – Louisiana State University
Masters/Doctorate in Music Composition – University of Texas/Austin
 Recent Projects include: 
Edens on the Edge – Production supervisor and soundtrack creator for a documentary which profiles Louisiana's Coastal Wildlife Refuges. Funded by NOAA, through LSU Seagrant.Grand Isle Diaries – Production supervision, oral history collection, and creator of a CD titled "Grand Isle Diaries" which combines both selected oral history excerpts with soundscapes of this rare human inhabited barrier island and it's eventual disappearance along the gulf coast. Done for LSU Seagrant – funded by NOAA.
Marsh Mission Oral History Project – recipient of Louisiana Methodist Board of Church and Society's 2005 "Peace and Justice Initiative" Grant – collected oral histories on the subject of land loss from south Louisiana coastal communities to be used as educational/informational component in photographer C.C. Lockwood's and painter Rhea Gary's traveling U.S. exhibit titled "Marsh Mission." Accompanying DVD titled "Losing Louisiana" resulted from oral history field work. Produced by Bennett Rhodes. (Chair Atchafalaya Basin Education Committee)Louisiana State Museum – Baton Rouge, LA – (present) nature sound audio installation titled "Natural Abundance" – featuring seasonal habitats of Louisiana avian and amphibian wildlife landscapes. Contract: Northern Light Productions, Boston, MA.Atchafalaya Visitor's Center – Butte La Rose, LA – contract through Department of Natural Resources and Gordon Linge Associates Exhibit Designers. Production of nature field recording for internal and external spaces. Special oral history compilations composed for internal spaces.Louisiana Wild Public Radio – Baton Rouge, LA – contract through Department of Natural Resources. Field recordist/editing of interviews and soundscapes for radio production. Shirley Sands, producer. Miriam Davey, naturalist host.Voices of the Atchafalaya – Louisiana State Museum exhibit – independent collaboration with Berlin-based photographer John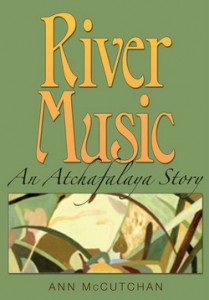 Amrhein. Photographic black and white images and oral history based soundscapes profiling the Atchafalaya and its people. The art exhibit will be designed for travel and intended to reflect the unique relationship between people and the geographical region of the Atchafalaya swampland.Miss Toots – collaboration with Morgan City storyteller Delores Henderson. Combining stories with sounds and music. Features unique aspects of the south. Commissioned by Delores Henderson.
Cornell Univ. Maculay Library of Sound – ongoing collaboration with Cornell's Library of Birdsong. Primarily focusing on documentation of migratory.
River Music. Book. Author: Ann McCutchan. (Professor of Creative Writing/North Texas State Univ. Denton, TX.birdsong habitat. All field recordings donated and archived for the Maculay Library. Greg Budney, curator. Chief Archivist.  Profile of Earl Robicheaux's work collecting oral histories and nature field recordings of south Louisiana. (Click on River Music book graphic to link to Ann's website)